A special bond
After a few days of pondering on the trouble I'd had with the finishing of the last bat, I realised that the difficulty I'd experienced was the exception and not the norm. However there's always room for improvement, but more on that another time.
I wasn't sure what to say about this bat, it was another heavy cleft of willow weighing in at 3lbs 11.3oz and I had no idea what shape I was intending to make before I started. I marked the edges first, as I always do, and usually that gives me an idea of where I'm going. But this time it was different.
Some of you may have heard me mentioning a particular bat that I hold in high regard, a "Wonder bat" of sorts…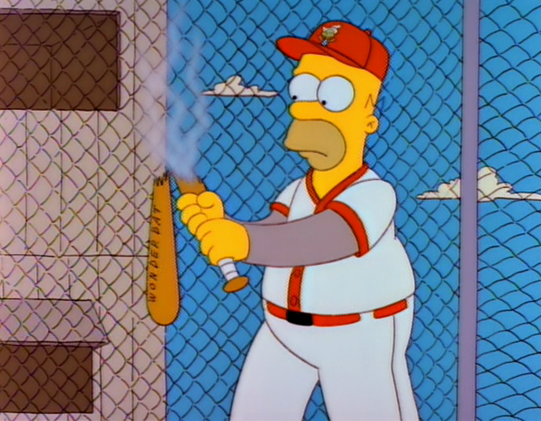 Well this bat wasn't crafted by lightning and I'm pretty sure it was made by Tony Cook of Hunts County and not in Hephaestus' forge.
Despite that, this bat was phenomenal!
No I mean this bat was phenomenal. The bat was a middle. The blade had a bizarre stiffness to it, even when you mistimed one it was as though the bat was rejecting the ball but in a way that meant you could feel almost nothing. As though you'd timed it cleanly. I remember mistiming a pull shot that went towards mid off (I know, terrible), I thought "Oh great, I'm out". Then as I watched I saw the fielder back peddling to get underneath it and said to myself "It might go over if I'm lucky". I continued to watch, half preparing myself to walk to the pavilion. But I didn't need to, the ball kept going…
and going…
and going… to eventually land for a one bounce four.
This bat was immense but like all of them, eventually they go to the big kit bag in the sky. I can't bring myself to let go of her though. It looks better than it is. The bat is being held together with glue.
Affectionately known as "The Glyny Bat" after a friend used it with total disregard for bowling figures one season.
If I ever manage to make a bat as good as this one I'll be a happy chappy.
So… I'd wandered back inside to get my bat gauge and saw this bat in one of the outer houses as I passed. I briefly reminisced about all the good times we'd had and just couldn't resist having a go at making this shape. Since this bat was around 2lbs 14oz in its prime I figured I had a perfect foundation to make another one.
I'm sure by now you know that the shape I have in my head and the shape the bat ends up being are never the same. So I didn't bother breaking out the ruler and graph paper.
Spot the difference between the two pictures below, apart from the glaringly obvious?
The difference is this. The plane has moved to the business end of the bench. I think my drawknife and I are destined to fall out, but until I can afford a new one we'll have to make do in this loveless relationship.
I tend to make my bats with a convex sweep to the toe rather than a concave one. Hopefully the photo above illustrates what I mean. I feel I'm leaving more wood in this area than needs to be there. In future I think I'll undertake this part of the shaping last to give myself chance of leaving it like that.
How happy am I that I kept this round bottom plane. It puts my old one to shame performance wise and makes shaping the back incredibly easy in comparison to previous experiences with round bottom planes.
The light shows a clear transition between the shape running towards the spine and the toe.
The toe did go a little convex as per usual. I get a little bit scared of ruining it, so I err on the side or caution. Remember, you can always take it off but you can't put it back on.
Some fine finishing, binding and TLC later. It looks like this. 2lbs 14.3oz with one grip.
That "blemish" near the toe makes the grain on the back shift peculiarly around it.
A better picture of the profile, the light in the workshop was messing my camera about.
I've done "The Glyny Bat" proud I think. Whilst by no means an exact copy, it's quality bat in its own right. An homage to a shape I hold dear to my heart.
@BeachcricketWWW
http://wieldingwhitewillow.blogspot.com/
http://www.facebook.com/WieldingWhiteWillow